Photo booths making a digital come back
Coty Dolores Miranda
Special for The Republic
May. 29, 2007 11:26 AM
Elaine Armentrout remembers how she and fellow Tempe Fees Middle School classmates loved to pile into a photo booth at Tempe Cinemas in the early 1990s, and then eagerly await the strip of grainy two-inch square photographs the machine would spit out after what seemed an interminable wait.

Now, after earning a degree in Criminal and Justice Studies from Arizona State University in 2004, she is partly to credit for the resurgence of those photo booths.

Armentrout and her parents, Linda and Dave Leonhardt, own The Arizona Photobooth Company. The company, based in Glendale, rents out retro-style photo booths updated with the latest in high-tech digital photography for weddings, bar and bat mitzvahs, proms, grad nights and corporate parties.
The latest version of the booths allows a choice between color or black and white photos. And, as the booths are rented, the six-panel photograph is free for those posing behind the short red 'privacy' curtain.

"After I graduated, Dad had this idea for a family business and I joined him. I never did use my degree, but I'm enjoying what I'm doing," said Armentrout, who had a photo booth at her March wedding. "And what's fun is I still have all those middle school photos we took."

The pull of photo booth nostalgia remains strong for Armentrout as it has for Hollywood folks like Johnny Depp, Quentin Tarantino and Dave Navarro, who have all purchased booths to entertain guests at their homes. The booths have also popped up at some Tinseltown parties, including Christina Aguilera's wedding.

"I remember the old ones and how you had to wait three to five minutes to get them, and then you'd have to be careful or they'd smear all over," Armentrout said, laughing. "Our photo booths are fast, give you a choice of traditional black and white or color and won't end up all over your hands."

Since beginning the company, the Leonhardts and their daughter have found corporate parties and weddings to be among their best customers.
<![endif]>
Scottsdale documentary filmmaker Kristen Atwell and her producer/director husband Dennis Ford said they still get comments from guests who used the photo booth at their 2005 wedding. "Not only did it add an activity to the reception, but it's a great little memento to send home with them," Atwell said. "And now when we visit all our friends' homes, they have their half of the photo strip on their refrigerator."
At weddings, the company provides a guest book that has room for half of each six-photo strip next to space for personal comments and best wishes penned by the guests.

"I treasure our photo album made for us that night. It was the first real glimpse I got of the party and of what a good time people had together," Atwell said. "I can't say enough about how much fun it was for everyone."

Armentrout said renting one photo booth for up to 200 guests is generally sufficient, with corporate parties of 400 to 600 attendees needing two to three booths. The cost is $1,300 for four hours, though she said that starting this fall the price could rise to $1,500. A company employee is on hand to assist during the event, and delivery and removal is included in the price. Armentrout says she is often on site unless there are multiple booths in use in one day.

Armentrout and The Arizona Photobooth Company will be at Sunday's Bridal Fashion Debut & Wedding Services Expo at the Phoenix Convention Center. To learn more about The Arizona Photobooth, visit www.azphotoboothco.com.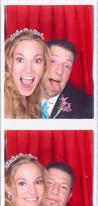 <![endif]>
<![if !supportEmptyParas]> Elaine Armentrout, who owns The Arizona Photobooth Company with her parents, poses with her husband in a booth they had at their March wedding.